Arts & Crafts Center
Activities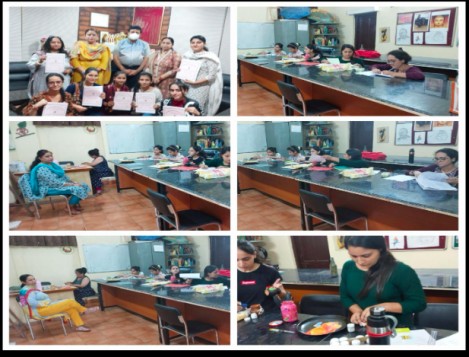 Students Completed Diploma course in Art and Craft for the session 2021-2022.
Exhibition-cum-Sale on the celebration of Holy festival Deepawali on 22-10-2022.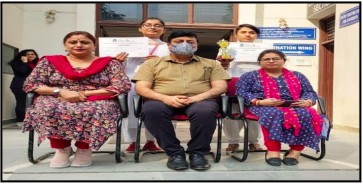 Students of Art & Craft Centre secured 1st Position in Binna Craft organized by School of Hospitality & Tourism Management, University of Jammu held on 07-09-2022.
Students find the idea and all worked on it and took special tips from learned artist Sh. Ram Verajan. Finally students got an idea and concept. They all started to make blueprint.
Exhibition-cum-sale on the ocassion of Navratras oraganised by the Art and Craft centre of the college.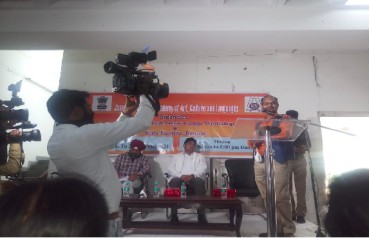 National Artists camp/workshop from 19th October to 23rd October 2021 Jammu & Kashmir Academy of Art, Culture and Languages organized 5 days National Artists camp/workshop at Kalakendra Jammu National artists camp/workshop was organized with a vision to provide limitless opportunities to students for creative minds. Dr. Raghav Langer Divisional Commissioner Jammu was invited as the chief guest. He also motivated students and Artists of National and international level by giving great ideas while addressing them.
GCW, Parade Ground Jammu, Art and Craft Centre organised Workshop on Paper Art and Waste Materials. Mr. Vinod Rai (Artist) From Delhi gave so many demonstration regarding use of waste materials, rough paper etc. to the students free of cost. 50 students participated in this workshop.
A workshop on handmade design masks was held for students and teachers. The masks were decorated by using by using block painting.
4 students of P.G. Home science were enrolled for Diploma course.
The students also painted suits, umbrella, diyas and candles which were displayed and sold in the fund raising program orgnised by the home science department on the occasion of Diwali and Karvachauth.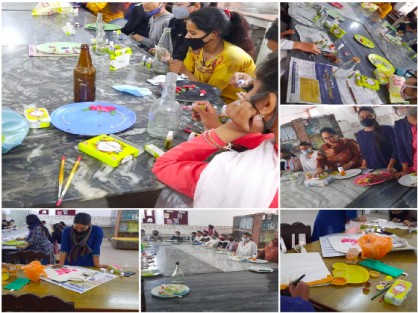 Mrs. Sanjogita Dogra from the incubation cell of the college was the resource person. About 62 students participated in the workshop. Various decorative articles were made out of plates, bottles,etc. by the students. Canvas/paper carry bag was also made by the students which were present in the home science department.
A 6-day workshop on Waste Management was conducted in the home-science department from 5 September 2019 to 11 September 2019.
8 students were enrolled for the diploma course and 6 students for the certificate course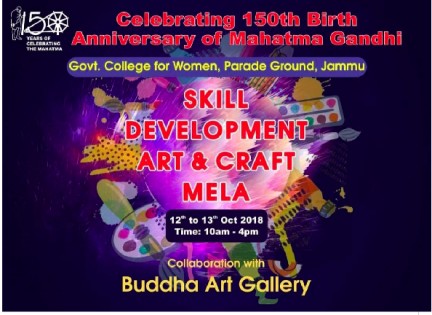 Celebrating 150 th birth anniversary of Mahatma Gandhi , GCW, Parade Ground Jammu, Art & Craft Centre organized" Skill Development Art & Craft Mela in collaboration with Buddha Art Gallery on 12 th & 13 th October 2018. Eight colleges of Jammu District participated in this Mela.
Quick Links